Printer-Friendly Version
GA10 Ozone/ PSA Air Dryer
Rugged, lightweight and compact, the GA10 ozone/dry air generator is an exceptional value. Engineered to connect to a local air source, this economically priced system includes a 5 micron filter regulator with an auto drain and coalescing filter as stand equipment.
Model
Ozone Production @10scfh
1.10 g/hr
Ozone Production @20scfh
2.67 g/hr
Ozone Production @30scfh
4.36 g/hr
Compressed Air Pressure
80/125 psi
Maximum Reactor Pressure
6 psi
Compressed Air Inlet (fnpt)
1/4"
Ozone Outlet
1/4"
Power Requirement
115V, 60Hz or 230V 50/60Hz
Dimensions
14.5" X 13" X 8.5"
Weight
22 lbs
*Specifications subject to change without notice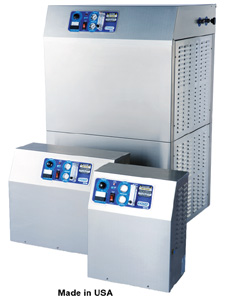 G Series Ozone Generators
The G Series ozone generators are used with an external oxygen supply. The units are complete with ozone cell, power supply, feed gas pressure regulator, over-temperature protection, feed gas flow switch, stainless steel ozone fittings, variable output control, reactor pressure control, LED visual ozone indicator, air cooled fan, and will accept 1 0-10 VDC input.
Model
G-11
G-21
G-22
G-23
G-24
Ozone Production
g/hr (lbs/day)
12 (0.6)
18 (1.0)
30 (1.6)
45 (2.4)
60 (3.2)
Ozone Concentration
(%wt)
5%
6%
8%
8%
8%
Max Reactor Pressure
(PSI)
12 (0.8)
12 (0.8)
12 (0.8)
12 (0.8)
12 (0.8)
Gas flow rate
(scfh)
10
10
20
30
40
Power Consumption
(watts)
230
270
435
525
625
Feed Gas inlet fitting
(inches)
1/4" fnpt
1/4" fnpt
1/4" fnpt
1/4" fnpt
1/4" fnpt
Ozone outlet fitting
(inches)
1/4"
1/4"
1/4"
1/4"
1/4"
Dimensions (H x W x D)
(inches)
19 x 17 x 12
19 x 17 x 12
19 x 17 x 12
19 x 17 x 12
19 x 17 x 12
Weight lbs
(kg)
44 (20)
49 (22)
51 (23)
53 (24)
55 (25)
*Voltage: 115V/60Hz or 230V/50-60Hz