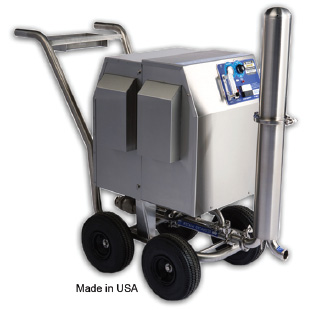 The PC Series consists of a heavy duty portable ozone system built on a rugged stainless steel cart. The fully enclosed unit includes an SGC ozone/oxygen generator with oil-free compressor, a mass transfer system, and an off gas ozone separation and destruct.
This portable ozonated system is ideal for surface disinfection. Disinfection applications include: food processing, hatcheries and fish tanks, slaughterhouses, wine barrels, fruits and vegetables, bottling plants and other applications.
Our portable ozone system is a rugged stainless steel package. Simple connect plant water in and get high concentration ozonated water out with a minimal loss of pressure.